Nowadays, having a strong online presence is vital for businesses to thrive and stay competitive. Mobile Apps and Websites are powerful tools for businesses in this digital landscape. These platforms allow companies to connect with their target audience, enhance brand visibility, and drive business growth. 
In this article, we explore how our team can help your business capitalize on mobile app and website development opportunities. We'll discuss the benefits of having a user-friendly website and why your brand should also have a mobile app.
Mobile App and Website? Discover the advantages for your business 
Your website is the front door to your business, so it should be user-friendly and well-optimized. However, a website today isn't just enough in this digital world. 
The "platformization" era is upon us, with 88% of mobile time spent on apps. 
Here are a few reasons to invest in your brand's website, as well as in a mobile app.
1. Enhancing Customer Engagement and Reach:
Mobile apps and websites provide businesses with a direct channel to engage with their customers, offering seamless access to information, products, and services. By investing in a customized mobile app or a user-friendly website developed by our team, you can provide an exceptional user experience that encourages customers to interact with your brand and stay connected. This heightened engagement strengthens customer loyalty, expands your reach, and establishes your business as a trusted authority in your industry.
2. Expanding Market Reach:
With the increasing number of smartphone users worldwide, mobile apps have become a prime avenue for businesses to tap into new markets and demographics. Data reveals that 85% of consumers prefer to shop in an app instead of a browser. 
Our team of experts specializes in creating innovative and user-centric mobile apps that cater to specific target audiences. By leveraging our mobile app development service, you can reach a broader audience, including tech-savvy individuals who prefer on-the-go access to your products or services. This expanded market reach opens up new revenue streams and bolsters your overall business growth.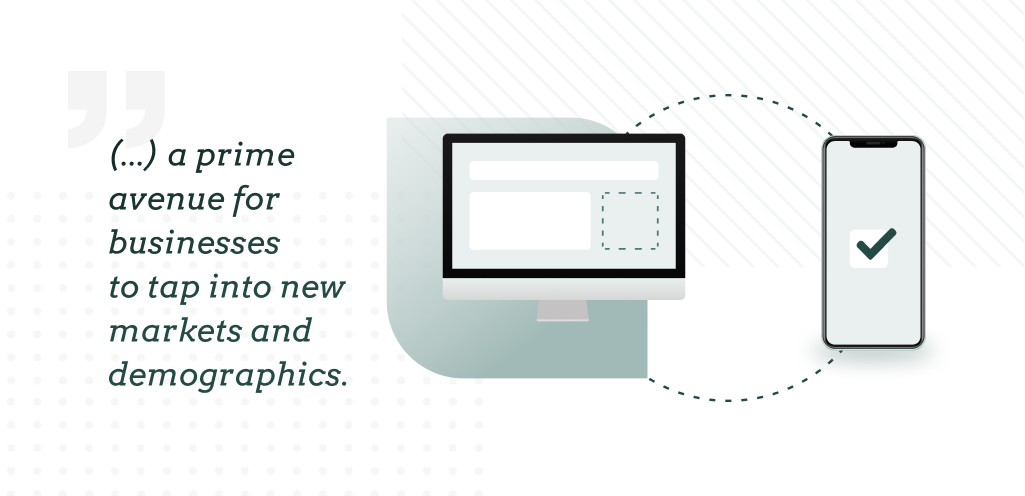 3. Driving Sales and Revenue:
A well-designed and user-friendly mobile app or website can significantly impact your company's bottom line. With seamless navigation, intuitive features, and smooth checkout processes, our team's expertise in mobile app and website development ensures a frictionless experience for your customers. By providing a hassle-free purchasing journey, you can maximize conversion rates, boost sales, and ultimately increase your revenue.
4. Establishing Credibility and Trust:
In today's digital landscape, consumers expect businesses to have a professional and credible online presence. A visually appealing and functional website, along with a robust mobile app, can help build trust and credibility among potential customers. Our team specializes in creating aesthetically pleasing designs and intuitive interfaces that showcase your brand's professionalism and expertise. By partnering with us for website and mobile app development, you can establish a solid online reputation and instill confidence in your target audience.
5. Staying Ahead of the Competition:
In a crowded marketplace, it is crucial to differentiate your business from competitors. Our team's expertise in mobile app and website development enables us to create unique and tailored solutions that align with your brand's vision and values. By harnessing cutting-edge technologies and incorporating innovative features, we help you stay ahead of the curve, offering a superior user experience that sets you apart from the competition.
Level up your business with our innovative Mobile App and Website solutions
Investing in Mobile App development and website development is no longer an option but a necessity for businesses looking to succeed in today's digital landscape. By partnering with our team to create your Mobile App or your website, you can unlock multiple commercial benefits! It includes: enhanced customer engagement, expanded market reach, increased sales and revenue, establishment of credibility and trust, and a competitive edge. 
Let our expertise in mobile app and website development propel your business forward, ensuring that you capitalize on the immense opportunities presented by these platforms. Embark on a journey of digital success with us!